Lochaline Cemetery
Morvern, Scotland
McLachlan Inscriptions in Lochaline Cemetery, Transcribed by Anne Maye, September 2000
(With her notes and comments. Map)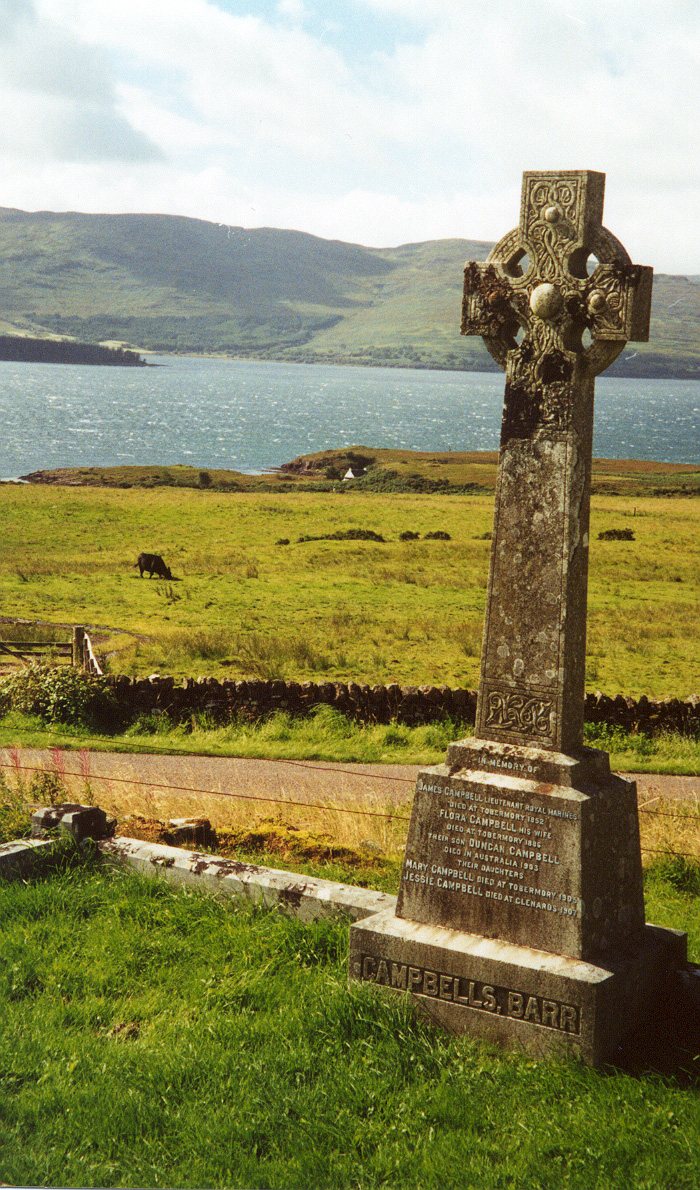 1. Celtic cross Pediment.
Campbells, Barr
In memory of James Campbell, Lieutenant Royal Marines died at Tobermory 1852
Flora Campbell his wife died at Tobermory 1886
Their son Duncan Campbell died in Australia 1903
their daughters Mary Campbell died at Tobermory 1906
Jessie Campbell died at Glenards 1907.

Notes:
Duncan CAMPBELL b 26 May 1828 Kilninian MULL died 23 Dec 1903 Toolondo VIC AUS, married Ann CAMERON dau of Samuel CAMERON & Barbara BUCHANAN 6 Mar 1862 Hamilton VIC AUS.
2. Large table grave with modern plaque attached
A Morven hero
This Donald Livingstone (Domhnull Molach) born 1728c and died 1816c at Savary Morven
rescued the Stewart of Appin Regimental Banner at Culloden in 1746
The banner is now at Edinburgh Castle
This memorial plaque was placed here in 1982 by Stewart Livingstone & other clansmen
3. Slate headstone at Lochaline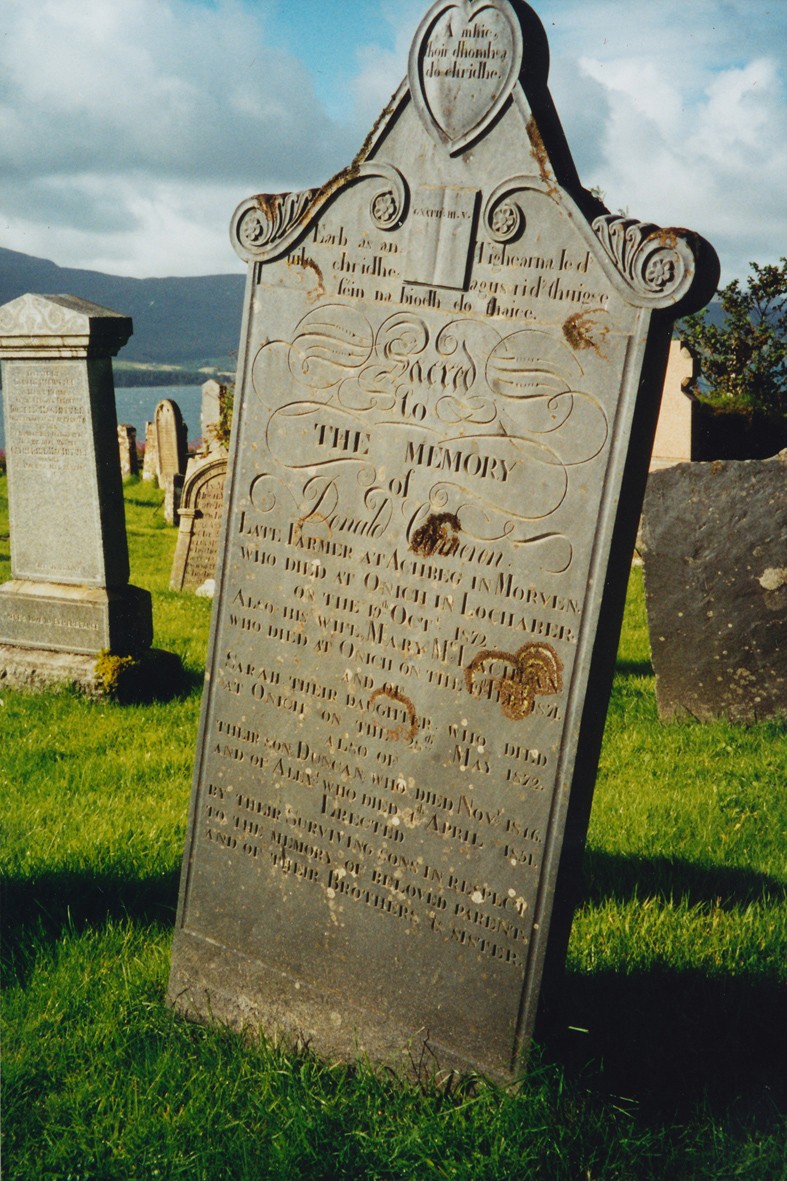 Sacred to the memory of Donald Cameron Late farmer at Achbeg in Morven who died at Onich in Lochaber on the 19th Octr 1872
Also his wife Mary McLachlan who died at Onich on the 19th Feby 1871
and of Sarah their daughter who died at Onich on the 28th May 1872
also of their son Duncan who died Novr 1846
and of Alexr who died 4th April 1851
Erected by their surviving sons in respect to the memory of beloved parents and of their brothers & sister.
Notes: Some of the members of this family went to NZ

1841 Census Achbeg Morvern ARL SCT
MORV ACHABEG 9 DONALD CAMERON M 20 AG.LAB. Y (d 19.10.1872)
MORV ACHABEG 9 MARY CAMERON F 40 Y (d 18.2.1871)
MORV ACHABEG 9 ANNE CAMERON F 15 Y
MORV ACHABEG 9 ALEXANDER CAMERON M 10 Y (d 4.4.1851)
MORV ACHABEG 9 DUNCAN CAMERON M 8 Y (d 11.1846)
MORV ACHABEG 9 SARAH CAMERON F 4 Y (d 28.5.1872)
MORV ACHABEG 9 JOHN CAMERON M 1 Y
From 1861 census Onich INV SCT
Onich, 16 Donald CAMERON, M head M 76 crofter born Morvern
Onich, 16 Mary CAMERON F wife M 70 born Morvern
Onich, 16 Donald CAMERON M son U 35 cattle dealer Morvern
Onich, 16 Ewan CAMERON M son U 33 cattle dealer,Morvern
Onich, 16 Sarah CAMERON F dau U 21 dom serv Morvern
Onich, 16 John CAMERON M son U 19 ploughman Morvern
From 1851 Census Ballachulish & Corran Ardgour ARL SCT Psh ED Sch
Place; First -Name; Last; M; Age; occupation; born. Page 506 2 19
Onich Donald CAMERON Head M 65 Crofter ARL Morvern
5 Mary Wife M 60 ARL Morvern
Donald Son U 28 Drover ARL Morvern
Ewan Son U 26 Drover ARL Morvern
Sarah Dau U 12 Scholar ARL Morvern
John Son U 10 Scholar ARL Morvern
From 1881 census Sallachail INV SCT
Sallachail 4 Donald CAMERON, M head U 55 farmer born Morvern
Sallachail 4 Mary MacVARISH F serv U 24 hkeeper Ardnamurchan
Sallachail 4 John MacPherson M serv U 22 ploughman ARL
Sallachail 4 Jessie HASTIE F serv U 18 ag lab Kilmonivaig
Family: details from Les Horn
Name born Father Mother
Archibald CAMERON 30/9/1816 Morvern Donald CAMERON Shepherd Innimore
Mary McLACHLAN Donald CAMERON 3/1/1819 Morvern Donald CAMERON Shepherd Innimore Mary McLACHLAN
Anne CAMERON 8/5/1825 Morvern Donald CAMERON Shepherd Innimore Mary McLACHLAN
Ewen CAMERON 3/5/1829 Morvern Donald CAMERON Shepherd Achbeg Mary McLACHLAN -
Alexander CAMERON 20/9/1830 Morvern Donald CAMERON Tennant Achbeg Mary McLACHLAN
Duncan CAMERON 11/9/1832 Morvern Donald CAMERON Tennant Achbeg Mary McLACHLAN
Sarah CAMERON 13/6/1836 Morvern Donald CAMERON Crofter Achbeg Mary McLACHLAN
John CAMERON 1/9/1839 Morvern Donald CAMERON Crofter Achbeg
Mary McLACHLAN 1/1/1816 Donald CAMERON Labourer married Mary McLACHLAN
Note "Eun" disappears - he's Dugald CAMERONs son "John" appears below "Sarah" in the 1841 Morvern Census "Anne" - dob is 1825 not 1821
- this fits with the 1841 Morvern Census
Family: details from Alison O'Neill .. a.oneill@xtra.co.nz
Donald CAMERON c1785-1872 Mary McLACHLAN c1791-1871
Issue:
Archibald b 30.9.1816 b Innimore
Donald b 3 Jan 1819 b Innimore
Eun b 4 Jan 1821 b Innimore
Anne 8.5.1825-? b Innimore
Catherine m Livingstone to NZ
Ewen b 3 May 1829 b Achbeg
Alexander abt 1830 1851 b Achbeg (ch 20.9.1830 LDS)
Duncan abt 1832 - 1846 b Achbeg (ch 11.9.1831 LDS)
Sarah c1840-1872 b Achbeg John c1842- b Achbeg
4. Two gravestones, one large plot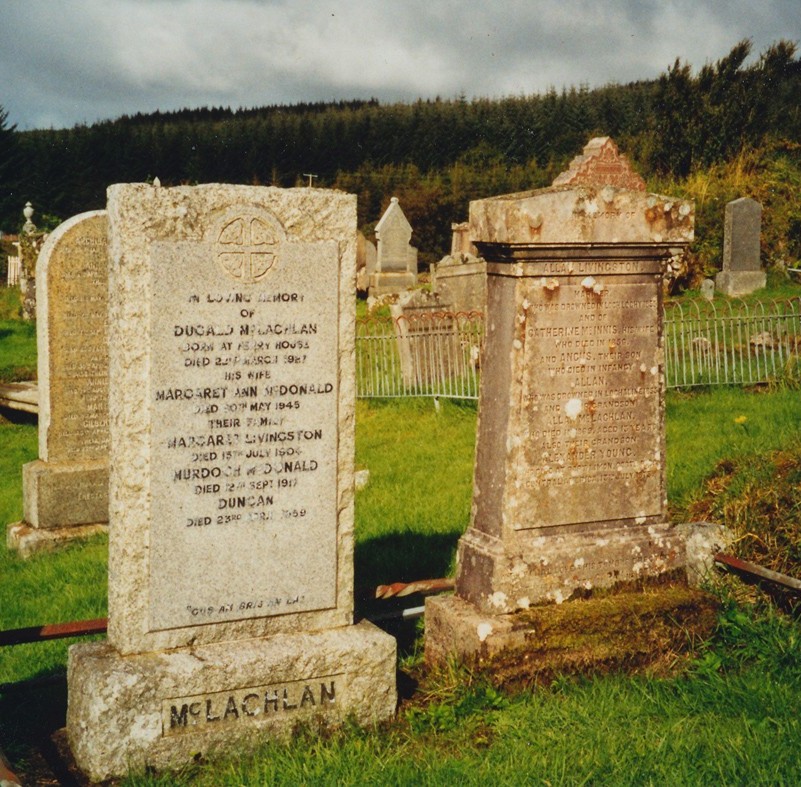 On left In loving memory of Dugald McLachlan born at Ferry House died 22nd March 1927 his wife Margaret Ann McDonald died 30th May 1945
their family
Margaret Livingston died 13th July 1904
Murdoch McDonald died 12th Sept 1917
Duncan died 23rd April 1959
Base stone of pediment McLachlan
On right In memory of Allan Livingston mariner who was drowned in Loch Lochy 1855
and of Catherine McInnis his wife who died in 1856
and Angus their son who died in infancy Allan who was drowned in Lochaline 1855
and their grandson Allan McLachlan who died in 1869 aged 13 years
also their grandson Alexander Young who died at Port Limon, Costa Rica Central America 13th July 1873?

Notes: In the 1861 Census for Lochaline in household 61 is the following family:
Duncan MacLACHLAN, Male, head, married, 38, ag lab, bo Tobermory.
Margaret MacLACHLAN, F, wife, married 44 bo Morvern
Allan MacLACHLAN, M son Unmarried 5 scholar bo Morvern
Catherine MacLACHLAN F dau Unmarried 2 bo Morvern
Dugald MacLACHLAN, M son Unmarried 0 bo Morvern
Sarah CRAIG, F s dau U 15 scholar bo Morvern
Mary MacLACHLAN F s dau U 12 scholar bo Morvern Flora MacLACHLAN F s dau U 8 scholar bo Morvern
In 1881 Census at Caolas (which is just across from the ferry at Lochaline) is this family.
Household 1 Duncan MacLACHLAN, Male, head, married, 60, ferryman, bo Tobermory
Margaret MacLACHLAN, F, wife, married 55 bo Morvern
Kate MacLACHLAN F dau U 22 gen servant bo Morvern
Dugald MacLACHLAN M son U 19 joiner bo Morvern
Maggy MacLACHLAN F dau U 17 serv dom bo Morvern
Neil Allan LIVINGSTON M nephew U 8 scholar bo Glasgow
The old Parish Registers give:
Allan McLACHLAN b 2 Feb 1856 Morvern par Duncan/Margaret LIVINGSTON
Catherine McLACHLAN b 20 Nov 1858 Morvern par Duncan/Peggy LIVINGSTON
Dugald McLACHLAN b 8 Feb 1861 Morvern par Duncan/Margaret LIVINGSTON
5. Obelisk with anchor, large family plot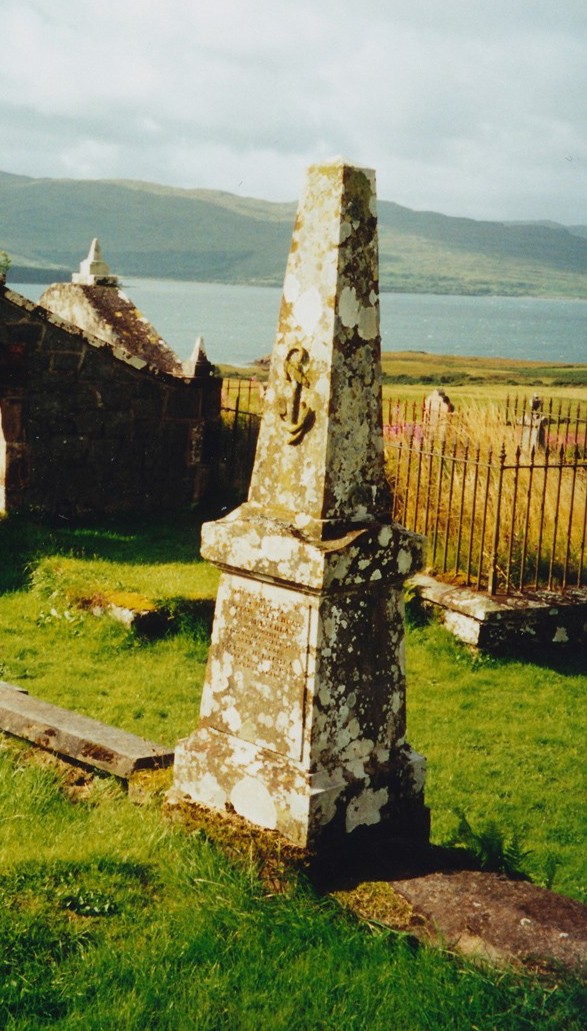 The Burial Ground of the late Captain McLachlan
Ann McLachlan His Mother died 9th December 1848 (1845?) aged 68 years
Captain McLachlan died 27th April 1849 aged 38 years
Note: Possibly the Anne McLachlan. 70 yrs b ARL in Lochaline Village in 1841.
6. White marble on side of stone McLachlan chapel with large plot and cast picket fence.
In memory of John Sinclair Esq of Lochaline who died on the 11th day of Jany 1863 in the 93rd year of his age
and of Catherine MacLachlan, his wife who died on the 23rd day of Novr 1825 aged 39 years.
(Note: This the McLachlan of Rahoy connection.)
7. Old stone ..
Here lie the corpses of eleven children .... (indecipherable)
8. Recent upright headstone.
Erected by his mother and sisters
in loving memory of Donald MacLachlan Turner Bunnavullin, who died 5th Jan 1886 aged 39 years
also his sister Christina who died 3rd Sept 1888 aged 34
Ann Robertson who died 25th Decr 1923 aged 41
her husband Dougald MacLachlan who died 16th Dec 1941 aged 52
also Jennifer Kelso born 27th March 1977 died 10th April 1977
also Donald Cameron MacLachlan who died 5th August 1978 aged 60
Donald's (d1886) parents were Allan McLachlan/Jean Livingstone.
9. Three headstones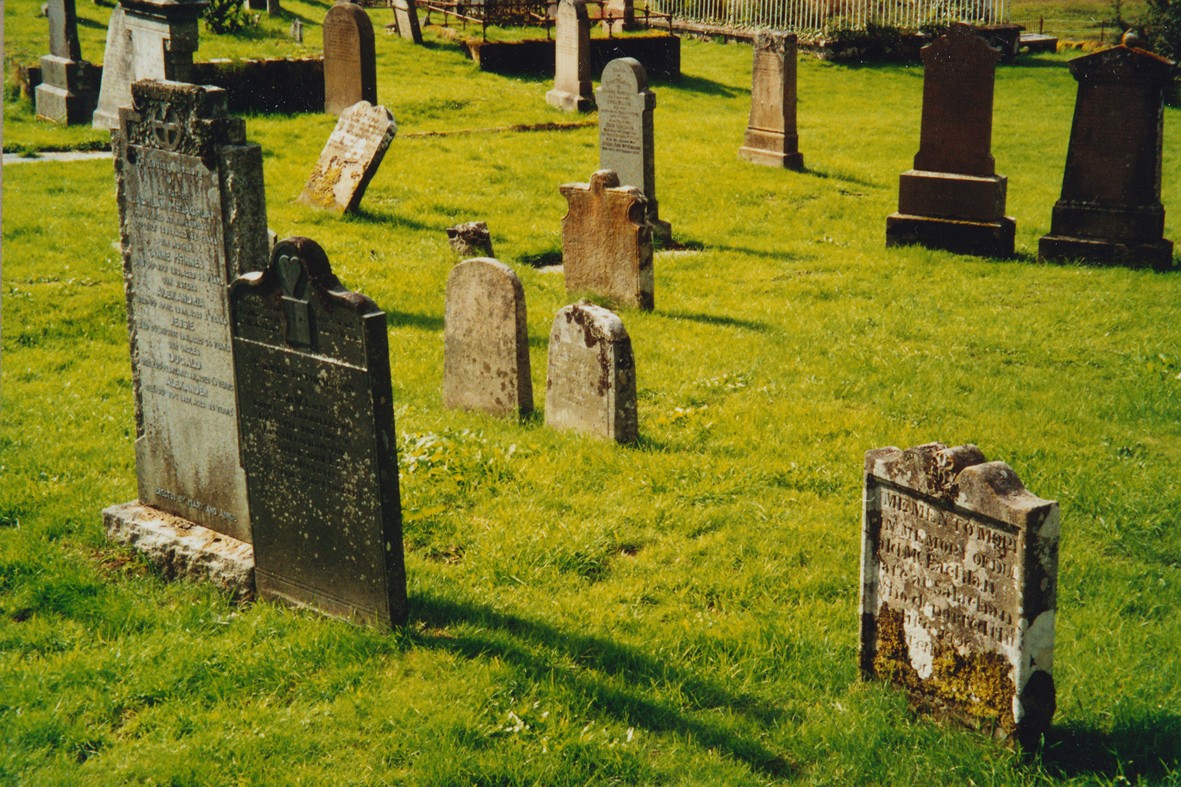 (a) On the left
In loving memory of our father Lachlan McLachlan who died at Kingairloch 5th July 1894 aged 42 years
our mother Anne McInnes died 3rd July 1913 aged 55 years
our sisters Alexandria died 4th April 1892 aged 8 years
Jessie died 9th August 1941 aged 54 years
our uncles Dugald died 23rd February 1921 aged 69 years
Alexander died 6th Sept 1927 aged 82 years
erected by Mary and Anne.
Lachlan (above) was a brother of Hugh (below).
Both were sons of Archibald/Mary McLACHLAN.
(b) In the middle
Sacred to the memory of Hugh McLachlan late cattle dealer who departed this life at Kingairloch on the 2nd day of April 1873 aged 65 years
erected by his children.
Hugh's parents were Archibald/Mary McLachlan.
His spouse Mary Morrison.
(c) On the right
.. older & more sunken & weathered Top line indistinct
In memory of Dugald McLachlan Late of Salachan who departed this life 1796
erected by his son ?? Alexander 1835
Dugald was of Sallachan in 1779 Census.
Spouse Mary McNaughton.
Dau Mary (Cameron) d 1858 at 94 yrs.
Son Alexander.
9.
In memory of Lachlan McLachlan who peacefully departed this life at Ormsaig, Mull on the 12th Nov 1860 aged 50 years
and of his son Hugh who died at Appin 12th Nov 1863 aged 24 years
also of his daughter Janet who died in infancy
and of Christina Cameron his wife who died at Oban 2nd April 1883 aged 82 years
and of their son John who died at Oban 8th Dec 1879 (1878?)
Lachlan a son of Hugh/Catherine Kennedy John 1845-1879; Hugh 1839-1863;
10. Modern black granite (or polished limestone?) with gold lettering facing Mull, not east.
In loving memory of Duncan Sinclair beloved husband of Margaret MacLachlan died 21st May 1960 aged 74 years much loved dad of Maimie and Donnie.
11.
In memory of John Henderson late of Kiel Colmkill who departed this life 14th Dec 1846 aged 63 years
and of Mary MacLachlan his wife who died 7th April 1866 (1856?) aged 75 years
Also a large white wall and white picket surround ...
McLeod Married at Aharacle ARL 7 Feb 1811.
(OPR) 1841 census at Achabeg Morvern. John 60, Mary 50, Sarah 30, Christy 25, Mary 15, Flora 7.
12. Chapel Lochaline Cemetery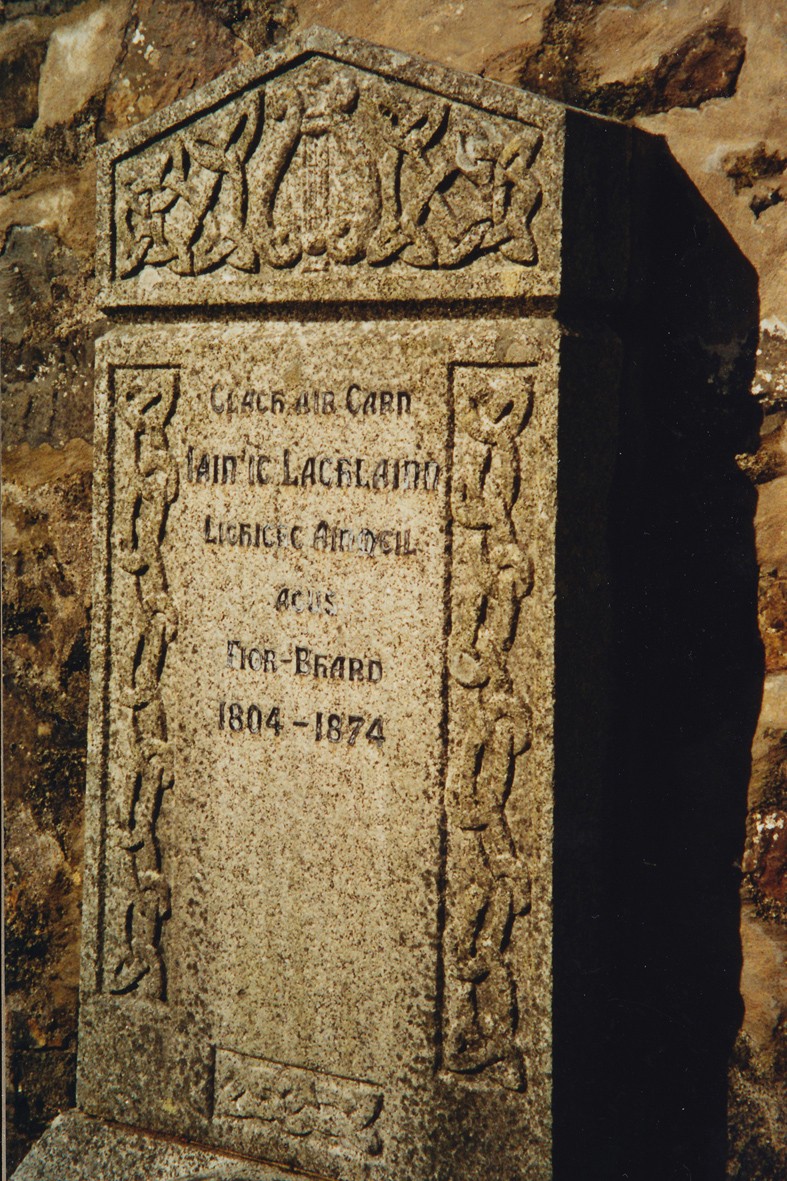 on lintel
The Burying Place of the MacLachlans Rahoy Inside Iain ic Lacllainn Lichiche Ainmeil Agus Fior-Bard 1804-1874
This is Dr John McLachlan.

If you are interested in pictures of these gravestones, please contact Anne Maye- [a_mayezing(at)yahoo.com.au]
---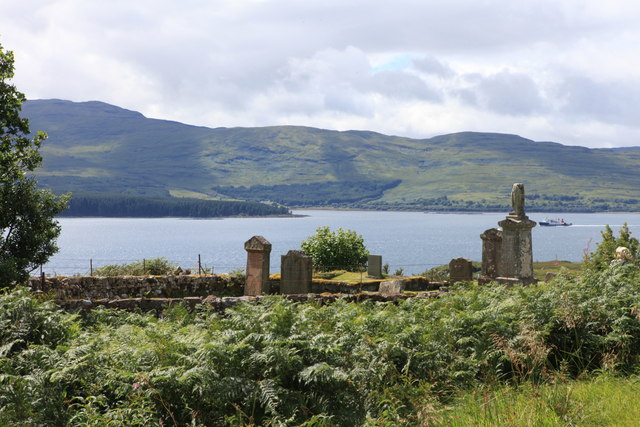 ---
To visit some of my index pages, choose from this drop down list, and click GO:

226