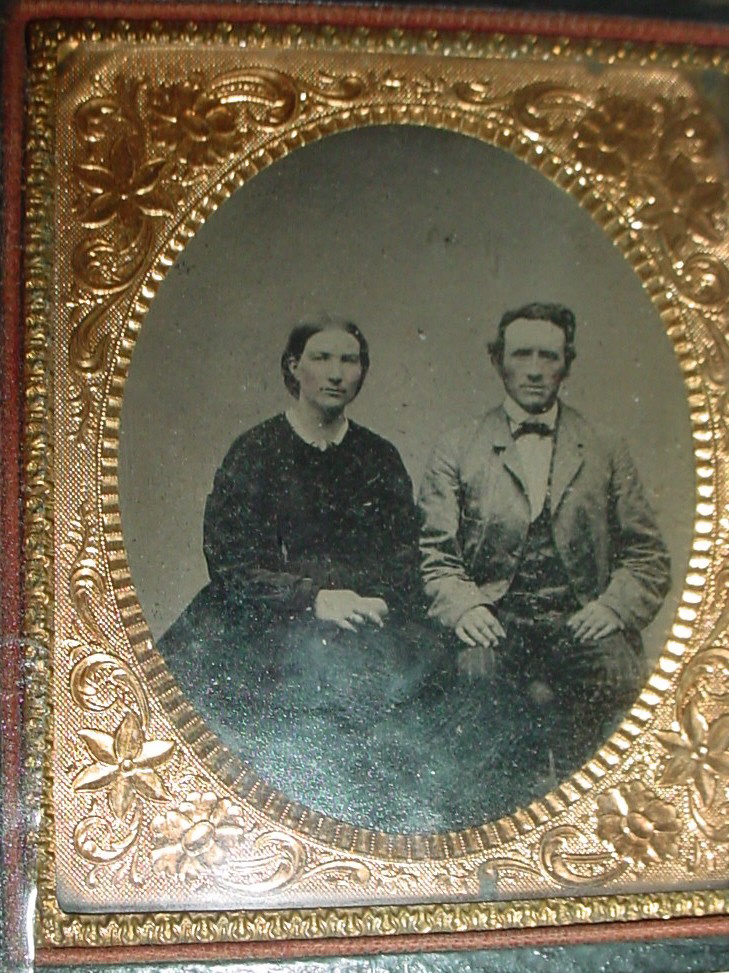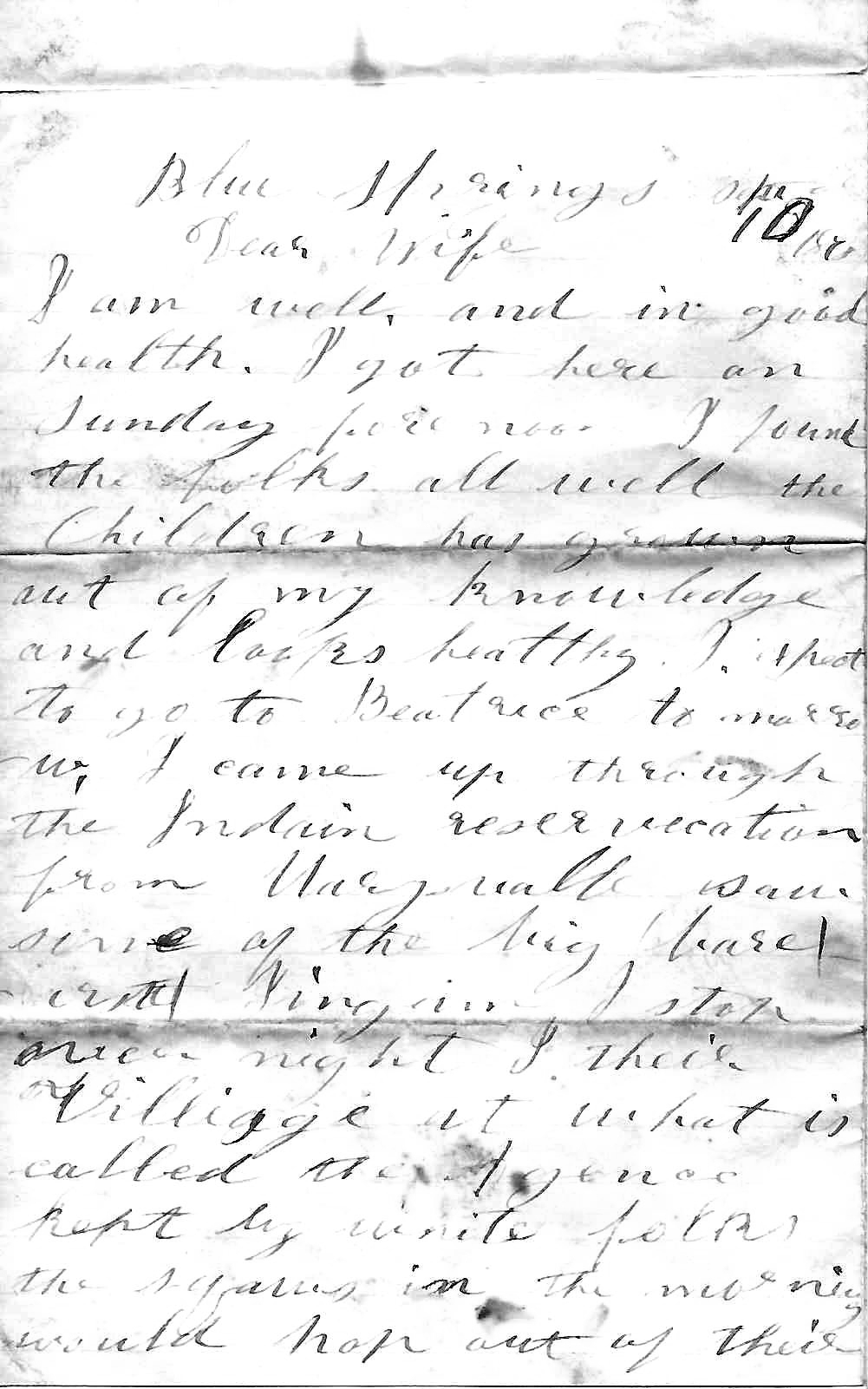 Click to view 1878 letter
Thomas, fifth child of Peter Ralston and Janette Brown, was born 21 August 18271,2 at Homeston, Campbeltown Parish, Argyleshire, Scotland. 1827 Parish Record. He emigrated with his parents, Peter and Janet, from Campbeltown, Scotland in 1840 to New York on the ship "British Barque Tay" and they went to live with his mother's brother, Alexander Brown in Cincinnati, Ohio, and then in Illinois in 1843 3,4 to Argyle on West Lane Road.3,4 He married Jean Ralston, daughter of John Ralston and Isabelle Greenlee on 1 April 1857.5,6 He died on the farm near Roscoe, 19 May 1879, age 51, as a result of injuries received while he was administering medication to a horse.

When Thomas died he left his widow and 7 children with the farm (3 sons and 4 daughters). 1. Peter William (Willie)1858-1949 2. Janette B. (Nettie)1860-1926 3. Isabelle G. (Belle) 1863-1919 4. Martha (Mattie)1865-1936 5. John Thomas (Uncle John)1868-1945 6. Elizabeth Helen Lizzie)1873-1949 7. Thomas Charles 1876-1891
Grandpa Peter Willie was the oldest and he, with his mother Jane, was appointed estate administrator. (See farm ownershop history for more.)
This is what he wrote in his account book:
Harlem Ill. 1879 June 6
Jeane Ralston and Peter W. Ralston having been appointed administrators of the estate of Thomas Ralston, the following is an account of the resources and liabilities of the estate.
Cash on hand 300.00
Rec'd. from estate of Peter Ralston 80.00
Picture of gravestone.
---
Thomas and Jean had seven children:7
+1) Peter William (Willie), born 24 Mar. 1858, Harlem Twp., married 6 November 1890 to Hannah J. McAffee, he died 5 Jan. 1949, Chicago, Ill.
2) Janette Brown (Nettie), born 20 June 1860, Harlem Twp. and married 7 February 1889 Roscoe, IL, to David McNaughton, born 1857 in Scotland. He died 6 February1925 at Redwood Falls, Mn. She died 2 September 1926 at Redwood Falls, Minn. They had two children,

Margarette born 6 Dec 1899 at Delhi, MN and
Vida born 24 July 1902 at Delhi. Vida Jean, married Melvin Johnson 1 June 1929 at Cold Harbor.

3) Isabelle Greenlee (Belle), born 14 Feb. 1863, Harlem, married 18 October 1900 to James M. Smith born 24 June 1860 and died 10 Sept 1916 at Rockford. She died 27 September 1919 at Rockford. They had no children.
4) Martha (Mattie), born 22 Oct. 1865, Harlem, married 28 January 1897 to Henry White born 1868 in Virginia and died 18 Oct 1933 at Salisbury, M. She died 31 May 1936 at Salisbury, Mo. They had two children.

Jean born 1903 in Mo., died 1991, Montana and
Mattie born 25 Dec Mo. and died 1991 Arizona.

5) John Thomas (Uncle John), born 28 Nov. 1868, bachelor, he died 25 June 1945, Roscoe.
6) Elizabeth Helen (Lizzie), born 10 Apr. 1873, married 10 January 1895 to Daniel McKay, she died 14 Feb. 1949. They had eight children.

Jean Janette, born 1895 Delhi, died 1964 Sheridan, Wyo.
Isabelle, born 1899, Delhi, MN. Marrried 1970, W Palmer Hilsabeck. She died 1986 Seattle, Wa.
Elizabeth, born 1900, Belview, MN. Married 1932, W Palmer Hilsabeck. She died 1967 in Burien, WA.
Donald, born, 1905, Married Esther Jenson 1933, died 1945, Minneapolis, Mn.
Elsie, born 1909, died 1971.
Eunice, born 1913, Married to Homer Lunde 17 May, 1947. She died Seattle, King County Washington, 1969.
Keith, born 1913, died 2004 Cal.

7) Thomas Charles, born 16 Jan. 1876, Harlem, he died 6 Mar. 1891, Harlem.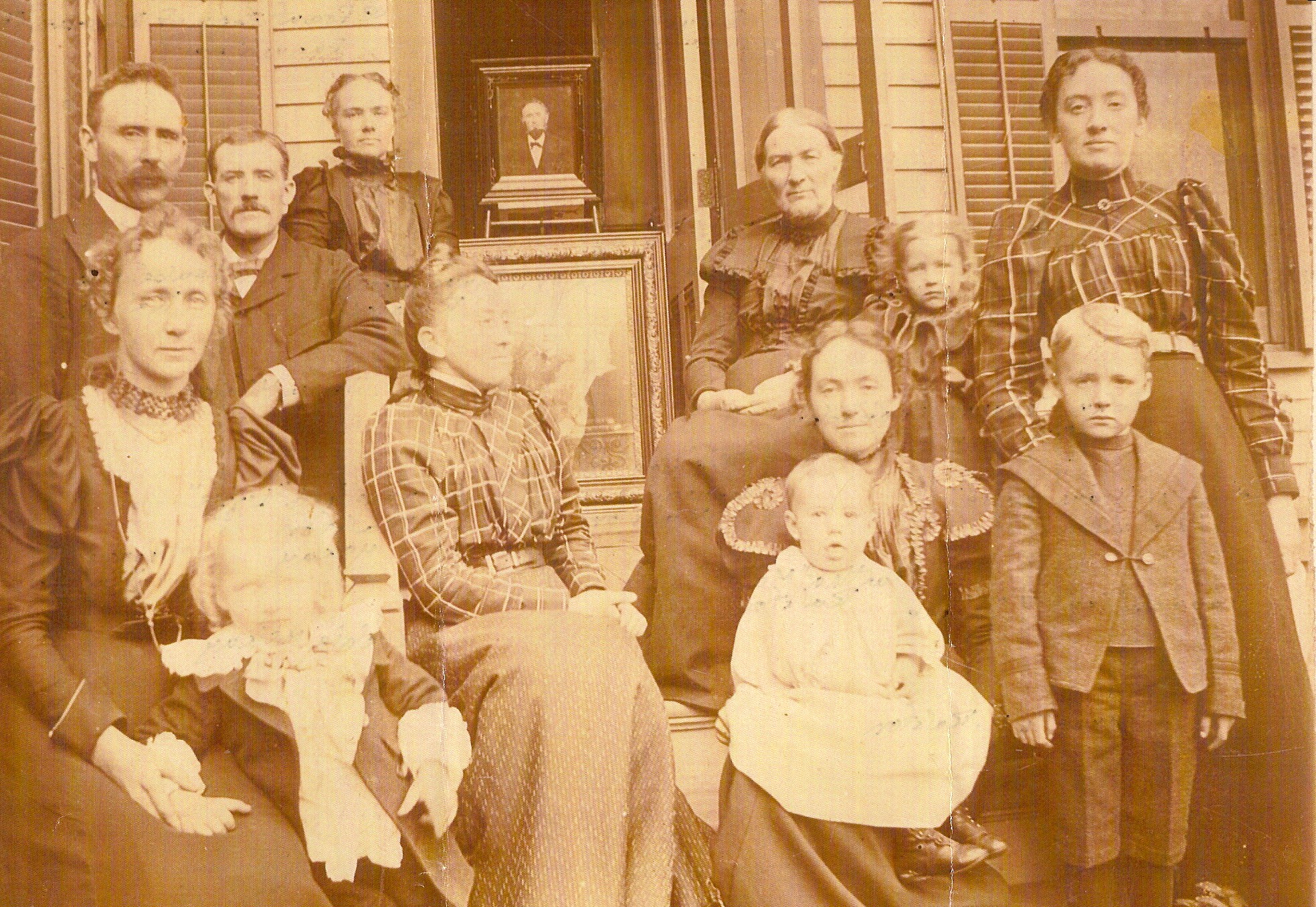 On the 29 August 1853 he (age 26) purchased from Luther Brown of Ashtabula, Ohio, the farmland described as W½ NW¼ Section 10 Township 45 North Range 2 East. Containing 80 acres and recorded in Vol. 17, page 66 at the General Land Office at Washington, D.C. The price was $400.00. This property later contained the farm buildings on McDonald road in Harlem Township, Winnebago County, Illinois. Luther Brown had bought it from the Government in October 28, 1839.8
On 8 February 1854 he purchased from Paul and Abigail Torrey of Naples, Ontario County, New York, the farmland described as E½ SW¼ Section 3 Township 45 R 2E. containing 80 acres. The price was $1,000.00. Paul B. Torrey had bought it from the Government April 15, 1841.9
On 5 June 1869 he purchased from his father Peter Ralston farmland described as NW part of NE¼ of NE¼ Section 14 (looks like 19 but probably 14) Township 45, containing 7 acres more or less. The cost was $100.00.10
On 1 November 1870 he purchased from Jabez and Lydia Love the farmland described as NW¼ SE¼ Section 3 Township 45, containing 40 acres. The price was $1,200.60.11
On 17 March 1873 he purchased from Jabez Love and Milton Rhodes and their wives the farmland described as S½ W½ SW¼ Section 3 Township 45, containing 40 acres. The price was $1,600.00.12
The farm on McDonald Road then had a total of 240 acres.